WINTER SPORTS CAMP IN SPAIN
•
COSTA BRAVA CAMP 2020
•


SUMMARY
Another winter edition of our sports camps in Mediterranean Spain is behind us! We are still lost in admiration for the range to which our trips abroad have grown and that's all thanks to you DEARS! 😊 We are extremely grateful for your trust and great cooperation with us in creating such a beautiful sporting event which always unites all sports and clubs from different parts of Poland and abroad. It's YOU who create the joyful atmosphere of the camp and without you BK Turismo wouldn't have been able to work in such nice and friendly conditions! 😊 Once again, with all our heart, THANK YOU! 😊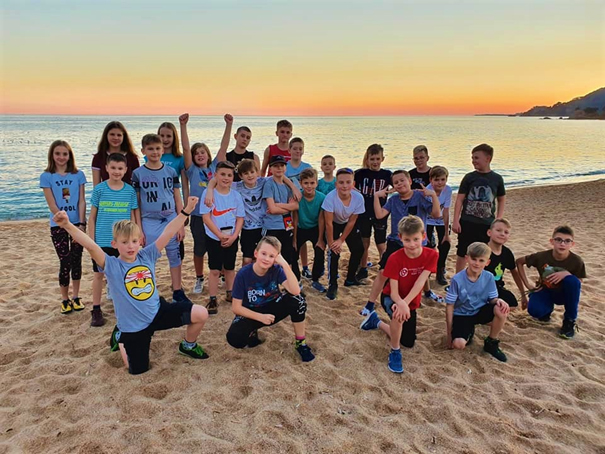 We admit we are a little sad that this is the end but we are driven by the fact that we'll soon meet again and spend time together on the training and on the beaches lying under the palms. But, well, for now we can only return to our colourful memories, with you in the leading role, and sink into our dreams of future camps staring at the sunny photographs... in short: time for a great summary of our winter camp! 😊
It all started with a journey in comfortable LUX class coaches of the transport company RAF TRANS whom we'd like to thank for the cooperation, enormous effort and reliable support in the past winter. Some sports clubs decided to fly to Spain, which is of course also possible, but almost everyone came to Lloret de Mar by coach. After counting all the transport activities we can inform that:
We hosted 51 RAF TRANS coacheswhich during a single trip...
...have travelled about 5 000 km!
The total number of kilometers is as many as...
…ONE bus drives in three years!
They were driven by a total of 80 000 liters of fueland 300 drivers.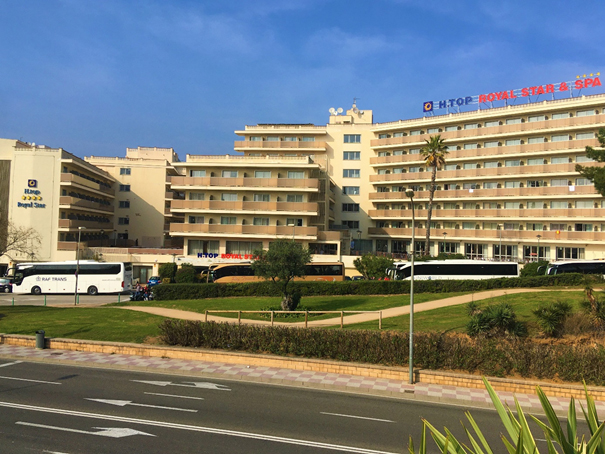 After safe arrival to our reliable and trusted 3* and 4* hotels our BK Turismo team, ready and waiting, greeted you at the entrance and helped you check in at the hotel reception. After a good rest you could get to know us more closely during walks in the area of Lloret de Mar to which we were happy to take you. You could feel more confident walking in the unknown, nearest vicinity of the hotel.
We started our plan of winter sports camp with trainings, whether football or for example swimming 😊 25 sports clubs could train at the same time! We prepared water for you for each training, we were present on the football pitches and swimming pools to make sure that there was nothing missing and you could focus on improving your sports skills.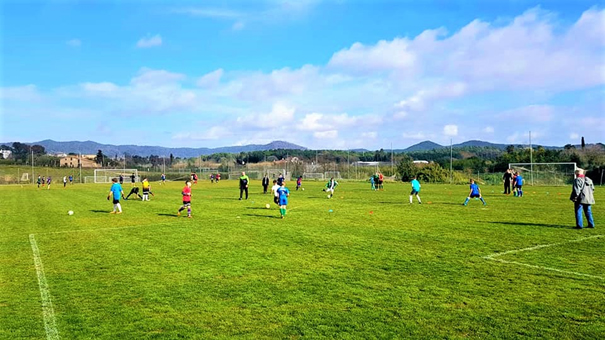 We also took everyone on all-day trip to the lively and hot city of Barcelona 47 times 😊 It was a pure pleasure to be able to show you this piece of the Spanish world. We were starting our walk with the symbol of Barcelona - the unfinished Art Nouveau basilica Sagrada Familia, the work of Antonio Gaudi. Every time it makes a great impression on everyone because they can finally see it live, not just in the pictures.
The next point of the trip was the most famous street of the Catalan city, La Rambla, leading from the main traffic junction – Catalunya Square, to the harbour. You can observe the city's Spanish life under the green cover of trees. It also serves as a popular promenade with many restaurants, stalls, famous chain stores and local artists exhibitions. You could learn from us where to go for the best snacks in your free time or where to buy nice souvenirs 😊
For dessert, we took you to a place that was awaited by all athletes, not only football players – Camp Nou Stadium and FC Barcelona Museum. How many emotions, how many smiles, how many jumps our eyes have seen 😊 It was extremely inspiring to see how happy you were to enter this legendary stadium. We have ordered for you almost 2 000 tickets to Camp Nou,thanks to which you had the opportunity to see, among others, the cloakroom, the space dedicated to Messi, an exhibition of all the cups and trophies won by the Catalan team and to enter an interactive room where the most important moments of the club's history were displayed. You could also see the breathtaking panorama of the Camp Nou stadium, enter its cult parts and finally buy souvenirs of this unforgettable experience from the official FC Barcelona store.
Sparring is an integral part of our sports camps. You could see how the Spaniards play, test your skills and learn valuable lessons from these matches for the future. You played an incredible number of 200 sparringsIn one afternoon we could have up to 18 sparrings at the same time! Of course, the score wasn't important at all but an admirable fight to the very end, as befits an athlete with a lion heart 😊
What else can winter in Spain be associated with... maybe with FC Barcelona league matches in Camp Nou stadium? 😊 Oh yes, you absolutely can't forget so many coach trips to the matches. After counting all the data, we can tell you that:
We participated in 4 matches of FC Barcelonawhich were between...
…FC Barcelona vs Granada CFscore 1:0
FC Barcelona vs Levante UDscore 2:1
FC Barcelona vs Getafe CFscore 2:1
FC Barcelona vs SD Eibarscore 5:0
While we have bought for our participants...
... almost 2 000 tickets!
Usually at the end of the winter camp we were going with you on a short trip to the charming town of Tossa de Mar, which we visited with you 47 times! 😊 It is located near Lloret de Mar but it's very different from it because of its historical character. We walked through the narrow, paved streets of the medieval old town of Vila Vella and the defensive fortifications from the XII century with a beautiful castle at the spearhead. There were many perfect places to take pictures, which you did not miss, sometimes with our help 😊 Sometimes wind was blowing very strongly, which could be seen by the flying hair and the difficulty of standing straight, but what made an amazing impression was the powerful element of water whose waves hitting against the rocks were then impressive in height.
Costa Brava Winter Camp 2020 was undoubtedly an unforgettable international sports event. As the finishing touch we organized the official goodbyes to the participants at which we awarded the well-deserved gold medals, diplomas of finishing the camp in Spain and our handshake 😊 At some of the meetings, apart from our final speeches, there were also words from the trainers who have often made such beautiful speeches that a tear in the eye was spinning but in contrast there were also outbursts of laughter 😊 We were in seventh heaven to hear children and young people shouting affirmative answers to our question "And did you like it here?! 😊" or "Would you like to come back next year?". We are very, very, very grateful to everyone individually! Finally, we'd like to present to you the remaining numbers, as interesting as the previous ones, from the winter edition of our sports camp in Lloret de Mar:
We hosted 70 sports academies from all over Poland and abroad...
...which makes a total of 3 084 participants!
During the 44 days of the winter holidays the athletes have drunk...
...over 64 760 liters of waterand moreover...
....were eaten 2 853 kg of noodles, not to mention...
... over 3 tons of fries! 😊
There was broken the up to now record of...
…swimming in the sea into which the camp participants entered on February 3rd! Oh it was such a warm day 😊