A DREAM PLACE FOR SPORTS TOURISM ALL YEAR ROUND - LLORET DE MAR
Not without a reason, Lloret de Mar is considered to be a very good location for a sporting trip. What's more, it's confirmed by the "Sports Tourism Destination" award, which is a proof of meeting above-average conditions for various sports. This award means that Lloret de Mar has distinguished itself from other places with a high level of products and services for people involved in physical activity. As BK Turismo, we chose this Spanish town because we care about the best possible camping conditions for all participants, so we are sure you'll be satisfied with it.
LLORET DE MAR
To start with, we have some basic information for you 😊 The town of Lloret de Mar is located in the province of Girona, on the Costa Brava near Barcelona and the border with France. It has an extremely rich history dating back 2 000 years. The real tourist development that turned this Catalan city into a resort began after the Second World War. Its location combines historical values and monuments with its proximity to the sea and long sandy beaches. What's more, we offer our participants having fun in the Water World aquapark which is located in Lloret de Mar, and what's worth emphasizing, it's one of the largest water parks in Europe. Now we'd like to give you some useful information about tourist attractions and sports facilities.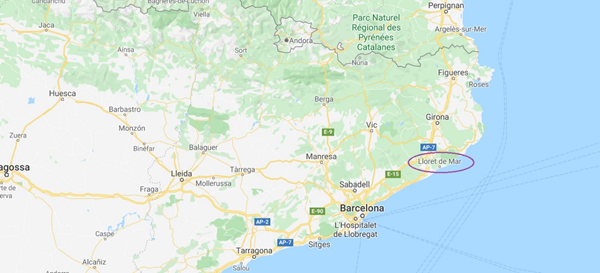 TOURIST ATTRACTIONS
BEACHES
In the town you can go either to the popular beaches with extensive infrastructure and water sports centers or to the more intimate and less touristic ones. The most popular beach is Playa Grande (also known as Playa de Lloret) located on the sea promenade in the very centre of town. It's over 1.5 km long, has the necessary infrastructure (sunbeds, sunshades, showers, toilets and nearby bars and restaurants) and offers all kinds of water entertainment such as banana rides or scooters. At the end of this beach you can see on the cliff a bronze monument from 1996, entitled "The Wife of the Fisherman"(Dona Marinera) which is better known as "La Venus de Lloret" which means Venus of Lloret. The monument is 2.4 meters high and presents a woman who is waiting for her husband to return from a sea trip. Legend has it that she fulfills the wishes of anyone who touches her feet and looks into the horizon and says their desire.
Less than a kilometer from Playa Grande there is the 700-metre-long Fenals beach (Playa de Fenals). It's worth visiting it because of the Blue Flag certificate which guarantees the highest quality of water purity and safety. In the vicinity of the town there are also so-called calas, tiny beaches squeezed deep into the sea bays. One of the most beautiful beaches on the Costa Brava can be reached by walking along the coast in the direction of Tossa de Mar. It's called Sa Caleta and is located at the foot of Castillo d'En Plaja.
THE SANTA CLOTILDE BOTANICAL GARDENS
It's a place you shouldn't miss being in Lloret de Mar! To reach it you have to do down towards sea. It was designed in 1919 by an architect from Minorca, Nicolau Maria Rubió and Tudurí. The style of the botanical gardens resembles Italian Renaissance gardens. The 15 hectare area has many paths, fountains, terraces, sculptures, and of course, exotic plants.
Visiting hours (Monday - Sunday):
from April to the end of October: 10:00 am – 8:00 pm
from November to the end of January: 10:00 am – 5:00 pm
from February to the end of March: 10:00 am – 6:00 pm
Entrance tickets: 5 € (adults) or 2.50 € (pupils, students, pensioners). The Santa Clotilde Botanical Gardens are located near Fenals beach. You can reach the gardens by taking one of the roundabouts in the city centre towards Passeig Jardins street.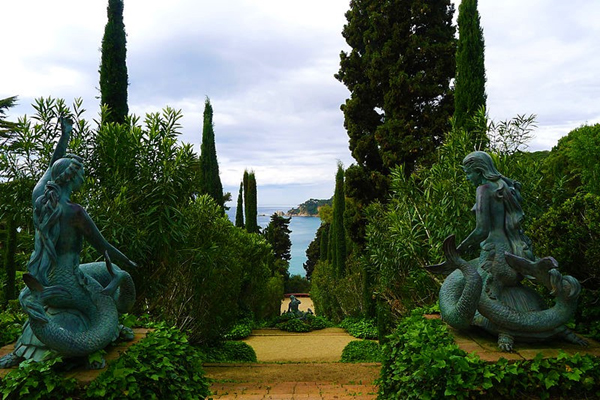 THE CASTLE OF SAINT JOHN (CASTELL DE SANT JOAN DE LLORET)
The castle was built in the XI century as a post from which the approaching enemy was looked out from the sea. This allowed the town to prepare to defend itself and repel the invader. During the war between England and its allies against France and Spain in 1805, a British warship bombed the castle, destroying it most severely in history. In 1990 it was partially rebuilt and opened to the public. From the thousand-year-old fortress remain ruins and the castle tower. The views from above to the coast are wonderful.
Visiting hours:
from October to May: Saturdays, Sundays and public holidays from 10:00 am to 2:00 pm.
June to September: Monday to Sunday from 10:00 am to 1:00 pm and 5:00 pm to 7:00 pm.
Entrance tickets: 3 € (adults) or 1.50 € (pupils, students, pensioners)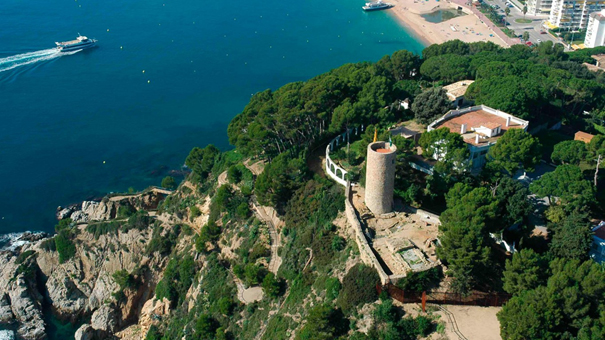 ACCOMMODATION
It's also worth mentioning the accommodation we guarantee for our athletes because it significantly affects the comfort and the possibilities of regeneration and rest after the trainings on football pitch, mat, court or swimming pool 😊 We guarantee you a stay in reliable and trusted 3* and 4* hotels with swimming pools, located about a few minutes from the nearest beach, as well as close to the city centre. The plan also includes evening discos and animations for children and teenagers which serve to integrate with other camp participants who come to us to Lloret de Mar, not only from all over Poland but also from abroad. Every year, more than 7 000 athletes take part in our camps, so it's also an extraordinary opportunity to meet other trainers and sports clubs and even do sparring against each other, which is normally much more complicated to organize in the country than here, when so many different clubs are in one place at the same time! 😊 The rooms are for 1, 2, 3 or 4 person and the meals are served as FB (in the form of a Swedish buffet) with water included. Drinks other than water are paid extra for lunch and dinner. In case of breakfast water, coffee and tea are free and unlimited. The food is diverse and delicious, you can find: seafood, fish, marinated meat, desserts, fresh fruit and vegetables and local dishes.
SPORTS FACILITIES
Let's look at Lloret de Mar from a different perspective now, this time "through sporting glasses" 😊 First of all, climatic conditions play a major role. Spain is known for its sunshine and warmth, even in winter when the temperature is between 15 and 20 degrees Celsius. Thanks to this, athletes have the opportunity to train in much better conditions than at the same time of the year in Poland. In addition, there is a big comfort in 3* and 4* hotels with swimming pools and other conveniences, which are great as a form of regeneration after hard training and are available for everyone 😊 We are aware that training camps are one of the basic elements of training course, so we offer you to combine the development of players' skills at the highest level with interesting time spent abroad, where children and teenagers can additionally learn at first hand about the culture of multicolored Spain and open to the world.
DIVERSITY AND CLOSENESS
Lloret de Mar is full of sports infrastructure for all sports, such as football, athletics, swimming, tennis, volleyball, handball, basketball or many other sports, both team and individual. It's worth noting that all sports facilities are located in close proximity because the town itself isn't big. That's why most often one person from BK Turismo will escort you to a sports facility, which is a pleasure in such beautiful weather and in such surroundings 😊
COMPLEX OF 14 FOOTBALL PITCHES WITH NATURAL GRASS
For football clubs we have a 152 000 m2 facility with natural grass at our disposal. It's a unique training place for over 1 000 teams from all over Europe and even from the USA. It's thanks to the Spanish climatic conditions that the ball is kicked here all year round. In addition, there's a huge parking lot, 19 cloakrooms, a café and a place to relax. We are proud of being an exclusive representative for Poland for this unique football facility which are available specially for the participants of our camps 😊
MODERN SPORTS CENTRE
In addition to the sports facilities for various disciplines available in Lloret de Mar, we offer you a modern and multifunctional sports centre with an area of 40 000 m2 which is located 10 minutes from your accommodation. It's divided into 4 floors and allows you to train such sports as acrobatics, martial arts, volleyball, basketball, handball, football, hockey, tennis and others. There's also an Olympic-size swimming pool in the area. The centre has become the place of numerous training camps of both Spanish and foreign teams which proves its high quality. Athletes of various importance use this excellent sports facility to prepare for important sports events.
Can you see now that BK Turismo is fully prepared for you in Lloret de Mar? We hope so! 😊 Remember that we host not only football athletes but also other disciplines and we are ready for your arrival too! We invite you to our facebook: https://www.facebook.com/pg/sportowebiuropodrozy to follow our news and we encourage you to contact us. We hope to see you in Spain soon! 😊